Read our interview with Mirvat, who speaks openly about her experience of having a child in the UK and how this differed from having children in Syria and Lebanon.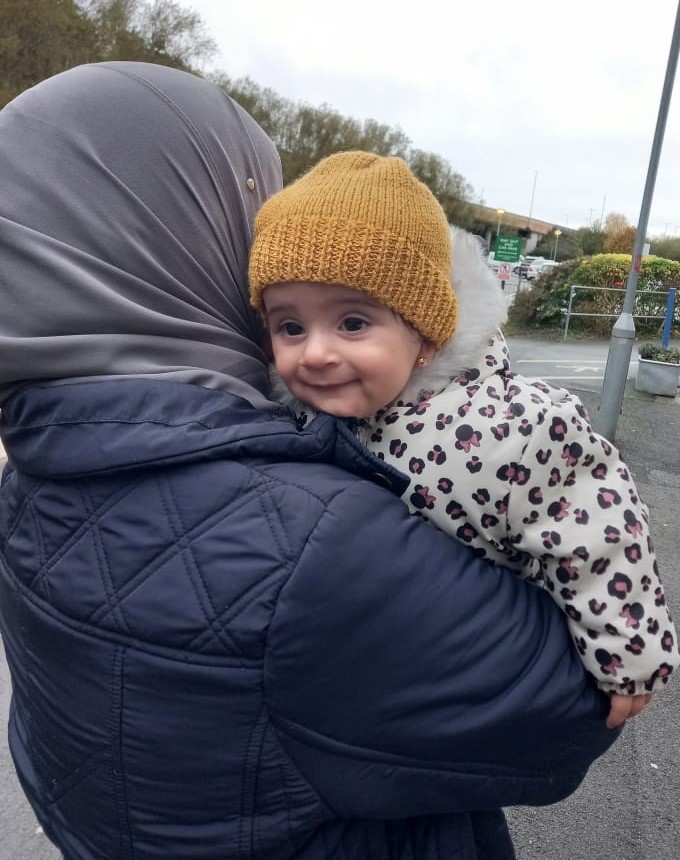 Giving birth in a country where you are unfamiliar with the systems and processes, where you don't speak the language, and where you aren't surrounded by family and friends is a daunting experience for any family.
Mirvat, who was resettled to the UK in 2021 through Community Sponsorship, sat down with us to talk through her maternity experience in the UK. She shared how it compared to having children in Syria and Lebanon, and how the Community Sponsorship group in Devon supported her throughout the process.
Read the below interview to hear directly from Mirvat on her maternity experience in the UK!
How long had you been in the UK when you found out you were pregnant?
I had been in the UK for three months. I came here in April 2021 and in July I knew I was pregnant. When I found out I was so happy, the whole family was happy; my husband, my kids, everybody was happy.
It must have been a lovely moment. Did you have any worries at all?
I was worried at the start because I don't speak the language here. For example, I was worried about how I'm going to get to the hospital appointments or the different medical appointments relating to the pregnancy. But the group didn't leave my side. They were with me all the time. We used to have appointments every 15 to 20 days, either with the hospital or with the midwife. So, the group was dropping me off and picking me up when my husband didn't have the car. And when my husband had the car, I started to go by myself, but I went once by myself and I couldn't understand what they were saying. So, the group started to attend with me to help make sure I understood everything.
Did the hospital provide an interpreter?
The hospital provided an interpreter over the phone but at the start I was struggling to understand the different dialects of the interpreters, because we have different dialects in Arabic. I did ask them to repeat the same sentence several times in order for me to understand and then I asked them to provide me with an interpreter who speaks my dialect.
Did you feel you were given enough support when you went to the appointments?
Yes. Regarding the delivery, when I went to the hospital, they asked me if I wanted to have a natural birth or a cesarean. I said I normally have a cesarean. They told me the due date; they calculated it in weeks, not by months which is what they do in my home country. Miriam [the group lead] was with me when they set the due date. I was able to attend my ESOL classes up until six months of pregnancy, after that I stopped.
What was it like having a child in the UK compared to having children in Lebanon and Syria?
In the UK, every month I used to have blood tests and urine tests. I always wondered why they did that because in Lebanon and in Syria, if you went to a doctor, it would have been a private doctor. And they will only do the tests in the first month, and then one month before the birth. And if you went to a public hospital, they wouldn't do any tests like blood tests or anything, as long as you're healthy and fine. They would say you don't need that. While here they keep doing it and I was even wondering why do they keep doing it each month! And they said we just want to make sure that you and the baby are okay.
Are there any differences between the midwife here and the ones you've had previously?
In Syria, you have a midwife but it's mainly just for the delivery. You don't go to the midwife for a checkup or to do tests or anything, it's just for the delivery. And I never had a midwife before. Also, the midwife did extra tests for me when I knew I was having a cesarean. She said 'I will do a test for you to know if you have any infections.' And that was very good for me; we don't have that in Syria, they don't do tests like that there.
How was your experience of the hospital and maternity ward here?
At the start, as the interpretation was over the phone, I wasn't used to it, and I was a bit worried about it. But bit by bit I got used to it. Also, the hospital gave me an anaesthetist who was Egyptian and he started to speak to me in Arabic and he was explaining things to me, which reassured me a bit. He was saying to me 'if you need anything let me know and I will explain to you', so that was reassuring for me.
One of the good things as well is that they allow the husband to come with you in the delivery room, which in Lebanon and Syria they don't allow you to do that. Having my husband in the room was comforting for me because I don't have my sister or my mother here, but having him in the room praying with me, this helped to make me feel better. I didn't stay for long in the hospital. I had the baby on Friday and I was able to leave on Sunday. This is different to my previous experience, as in Syria they only let you stay for 12 hours and then you have to leave. If you're not suffering from anything they dismiss you, but obviously if you have an issue or problem they will keep you for longer.
The group helped us through everything, they didn't leave us at all. And even until now they are helping us if we have any issues with schools, with the Job Center, or if any of us are not well, they help in in all aspects. They help a lot.
And how are you and the baby getting on now?
We're fine. She's whining a lot! Also, there are my husband's friends, there are maybe six or seven families who came here after us. And they were asking me about the pregnancy and labour here because they themselves were worried about the language barrier and how they're going to deal with it. And I advised them that actually it's been very easy and simple here.
One of the women who was going to have the baby soon, she kept saying to me, 'you know, they took blood tests, they are always asking me to see the midwife'. So I was saying to her that's normal. It's just to be sure that you and the baby are fine. There are loads of people who worry about having a baby here.
Are there things that you didn't know about that you wish you had known?
It's well known here that people normally are on time, but when it comes to hospital appointments it's different. They would send a letter saying I need to be there at 3pm, and so I would get there at 3pm but then I will be called in at 4pm! But if you're the one who's late and you would say, for example, that the road was busy or something happened, they would say 'oh no, you're late, why are you late?'
Something else that I remembered – normally when people have a baby in Syria, they are given a big prescription full of antibiotics. Even if you don't have an infection, they will just write a big list of medication that you have to take. While here they didn't do any of that and I was surprised when they didn't prescribe me anything. They said if I have pain I should take paracetamol – so that is one of the differences.
Another difference in Syria is that after the cesarean operation or surgery, they ask you not to wash for 10 days because they say there's a risk of infection. While here, the midwife asked me after 24 hours to go and have a shower and I was like, 'I can't have a shower!!' But here I was told to have a shower twice a day. I remember with my first daughter in Syria, I was just feeling so unclean. I kept saying to my mum that I felt like I had head lice and she said to me, 'at least wash your hair then!'.
The doctor here prescribed me a shower gel for my wound. I had the shower straightaway and I felt that was so much better than having a list of antibiotics!
And also, after the delivery the midwife used to visit me every three days to check on the baby and the jaundice. We don't have a service like that in Syria. They took the height and weight of the baby and they're going to see her again in nine months, and then the health visitor will take over after that.
Is there anything else you would like to say about the maternity experience?
I would like to add that if I'm going to have another baby here, then I would prefer to have a female interpreter because there are certain things that I felt shy about discussing with a male interpreter. I never asked for a female interpreter, but I was feeling very embarrassed discussing things with him. Or next time if I want to have a baby, I will speak the language so I won't need any interpreter at all!
Thank you very much, Mirvat!
Miriam, who is part of the Community Sponsorship group who welcomed Mirvat and her family, added the below:
I think it works really well having one person as a reference point during the pregnancy rather than having too many people involved. That worked really well in our case. And don't underestimate how joyful it is. My first belly laugh was when I got a picture of the pregnancy test while I was away – that was something that was clearly positive! And I thought, 'oh my gosh, she's got COVID'.
Also, just in terms of the children, because they were very involved all the way along, they knew very early on what was happening. We stayed at home and we decorated the house with balloons, and so it was like a big celebration. And we involved the school so that as soon as Tala was born, the children were able to have a WhatsApp video link to mummy and daddy and the baby, which was just wonderful. The NHS was absolutely fantastic. They were responsive when we needed appointments at short notice for various things. They found an Arabic speaking doctor on the staff to do all the interpreting, and they were absolutely person-centred. My biggest thing was – don't underestimate how much joy and fun you will have!